Jacksonville, IL…Assistant Republican Leader C.D. Davidsmeyer (R-Jacksonville) is pleased to announce that the 100th Legislative District will receive millions of dollars in Connect Illinois grants to provide high-speed broadband internet access to rural Illinois.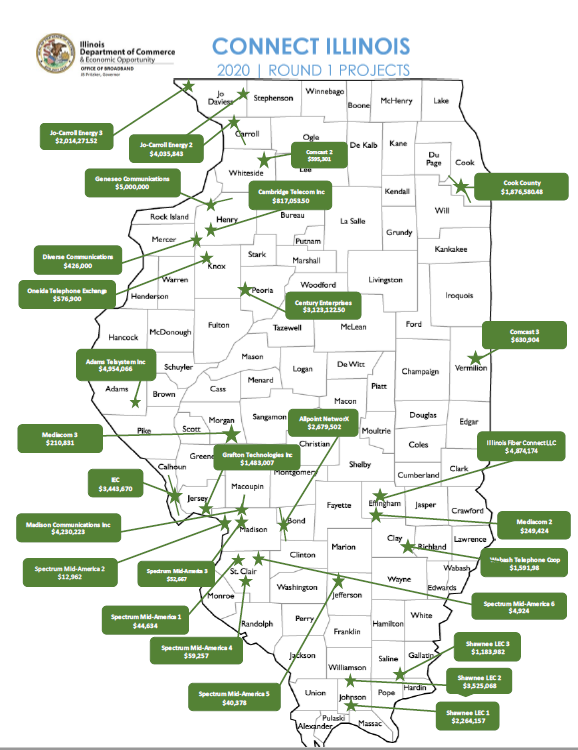 "Connect Illinois is a state-wide initiative to provide high-speed internet access to all of Illinois by 2024," Rep. Davidsmeyer said. "My district will be receiving millions of dollars in first-round grants."
Connect Illinois is a $400 million infrastructure project dedicated to providing high speed internet to students, farmers and rural businesses. Grants are distributed by the Department of Commerce and Economic Opportunity.
"The grants my district is receiving are going to provide much needed jobs. Workers will be getting started this summer laying fiber optic cable. Once connected, farmers will have instant access for plotting, growing and weather and market analysis.
"Rural small business owners will be able grow their businesses too. And most importantly students will have access to what other kids in Illinois already have – high speed internet for learning."
Click here for a state-wide map of counties receiving grants.
Connect Illinois Local Grants
Morgan $210,831
Calhoun $3,443,670
Jersey $1,483,007
Macoupin & Madison $4,295,852
"High speed internet is something we don't really see, but we use it every day. This is a great first step toward bringing our more rural areas into the 21st Century economy. By providing these grants we will connect thousands of homes, farms and businesses in the 100th Legislative District."