Winners for State Representative CD Davidsmeyer (R-Jacksonville) student art contest are:
High Schoolers: Thomas Asama, Routt Catholic High School, Jacksonville
6th through 8th Grades: Lexi Lane, Salem Lutheran School, Jacksonville
3rd through 5th Grades: Callie Howerton, Waverly Elementary, Waverly
K through 2nd Grades: Maggie Alexander, St. Francis/Holy Ghost, Jerseyville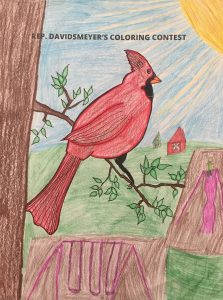 "Congratulations to everyone who participated in my legislative student art contest. The entries for this year's competition were incredible. The judges and I were blown away by the skills and talents that our students have," said Davidsmeyer.
Winning entries will be hung in Rep. Davidsmeyer's State House office.
"I will proudly display this year's winners in my State House office. Everyone who visits me will be able to see the talent and beauty of the 100th District."