Legislation Improves Port, Increases Trade and Creates Jobs
SPRINGFIELD – On August 5, Illinois Governor Bruce Rauner signed legislation sponsored by State Senator Sam McCann (R-Carlinville) and Representative C.D. Davidsmeyer (R-Jacksonville) to remove Quarry Township from the America's Central Port District, while offering new tools for the district to operate.  While HB3664 removes Quarry Township itself from the port district, Grafton lies inside that township, and the village will remain a part of the district.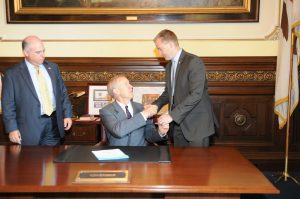 "Quarry Township felt that it was more advantageous to their constituents to operate outside of the port authority, and this is about honoring the wishes of our local governments," said Senator McCann. "But this legislation also enhances the ability of the district to serve as an economic development tool for the region."
The legislation authorizes the port district to maintain foreign trade zones outside of its district. In addition, the legislation adds the port district to a host of other port and airport districts with the ability to establish and acquire business entities to manage facilities in relation to community and economic development.
"My thanks go to the Governor and my colleagues for recognizing the opportunity that the Port Authority, as a foreign trade zone, will provide for jobs in manufacturing and distribution for our communities and our state," said Representative Davidsmeyer. "A good environment for creating jobs will have a huge positive impact on the future of Illinois."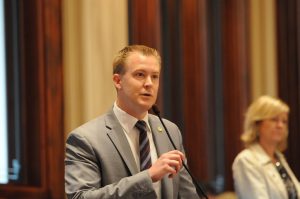 America's Central Port District was originally established in 1959 as the Tri-City Regional Port District, encompassing the communities of Granite City, Madison, and Venice in Madison County. It was later expanded to include parts of Jersey County and renamed to its current title.
The port district owns or operates 1200 acres along the Mississippi, and holds 1.7 million square feet of warehouse space, 70,000 square feet of office space, and 150 apartments. Over 70 tenants lease from the district which supports over 900 jobs. The district estimates that it has an annual economic impact of $282 million on the local economy.