The Illinois School for the Deaf (ISD) and School for the Visually Impaired (ISVI) will now be able to hire staff more quickly, thanks to legislation sponsored by State Senator Sam McCann (R-Carlinville) and Representative C.D. Davidsmeyer (R-Jacksonville) that was signed into law by Illinois Governor Bruce Rauner on July 15.
"Because of their important and specialized missions, ISD and ISVI have unique staffing needs," said Senator McCann. "This new law will help the schools more efficiently recruit and hire the best talent to educate their students."
Senate Bill 220 streamlines the hiring process for the two schools by exempting teaching applicants from the required grading process used by Central Management Services (CMS). After being recruited, candidates would submit their credentials directly to CMS, allowing the agency to determine whether they meet necessary qualifications before being hired.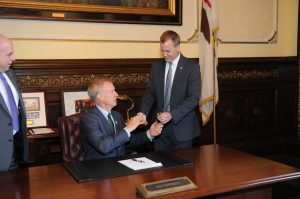 "I thank and applaud Governor Rauner for signing legislation that will make hiring easier and quicker at ISVI and ISD," said Representative Davidsmeyer.
"This public act will cut red tape and allow us to recruit and hire the best teachers for our kids."
"This is an example of how we can work together to make government more efficient and responsive to better serve the people of Illinois," said Senator McCann.