Maps of IDOT District 6
The Illinois Department of Transportation hosted a Town Hall meeting on the campus of Illinois College in Jacksonville on Monday, May 18th.
State Representative CD Davidsmeyer served as a panel member at the Town Hall meeting.  As a panel member he discussed recent legislation that will create America's Central Port into a foreign trade zone.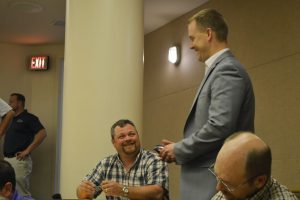 State Representative Davidsmeyer speaks to a constituent
A foreign trade zone allows raw goods to be shipped tariff free into the port.  "
By removing the tariff on parts we encourage economic development and manufacturing. We improve our economy, spur growth and create new jobs right here in Illinois," said Davidsmeyer.
Rep. Davidsmeyer informed the audience of IDOT's recent decision to include U.S. Route 67 in it's most recent multi-year program.  IDOT will soon begin working on engineering and environmental studies for the Route 67 corridor.  The next phase of the processes will be land acquisition and utility realignment.  The last phase includes construction, drainage, lighting and signage.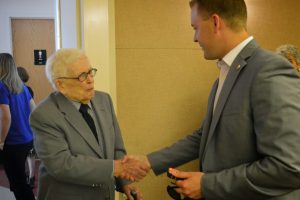 Former U.S. Congressmen Paul Findley & State Representative CD Davidsmeyer
The Town Hall meeting was also attended by former U.S. Congressman Paul Findley.  Congressman Findley discussed how at one time Jacksonville was the Athens of Western America.  He also described how rail, water and highway routes create commerce.